An Amish woman operating a horse-drawn buggy gets stopped by authorities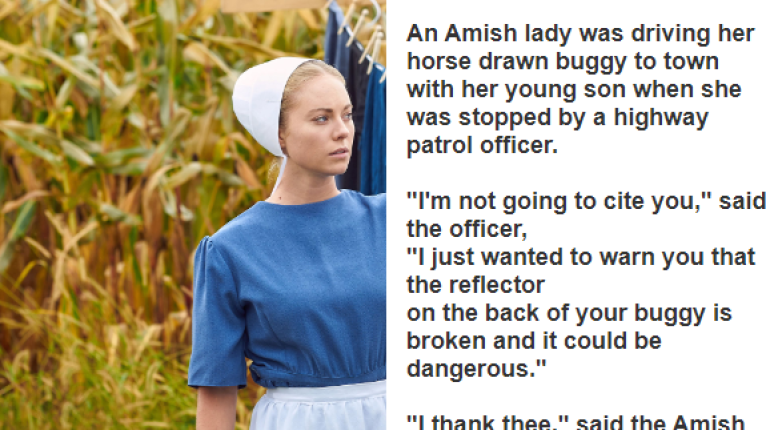 Posted August 28, 2023 by: Admin #Humor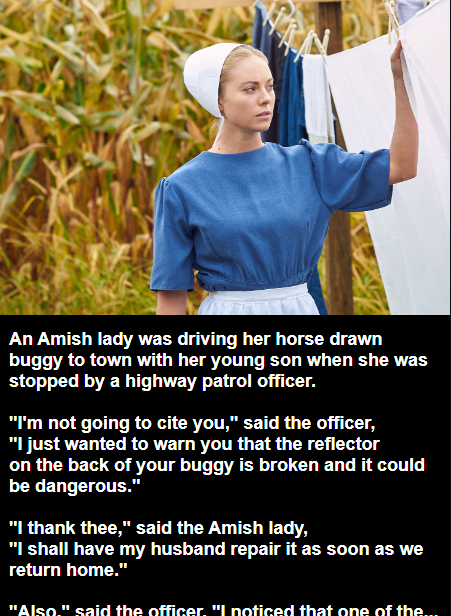 Advertisement:
While driving her horse-drawn buggy to town with her young son, an Amish lady found herself halted by a highway patrol officer.
"I won't be issuing a citation," the officer began, "but I wanted to bring to your attention that the reflector on the back of your buggy is broken, and that could pose a hazard."
"Thank you kindly," responded the Amish lady, "I'll ensure my husband tends to it once we're back home."
Advertisement:
The officer continued, "I also noticed one of the reins attached to your horse is tied around its testicles. This might raise concerns of 'cruelty to animals,' so you should ask your husband to examine this as well."
"Once again, I appreciate your guidance," the Amish lady conveyed, "I'll certainly have my husband address this when I return home."
True to her promise, upon arriving home, the Amish lady discussed the broken reflector with her husband, who promptly agreed to fix it.
Advertisement:
"Additionally," she relayed, "the officer mentioned an issue with our emergency brake."
😃🤣😀😁😎😋
Advertisement:
Advertisement:
Thanks for your SHARES!
You May Also Like
Add a comment