Jennifer Lopez reveals her REAL skin texture as glossy filter glitches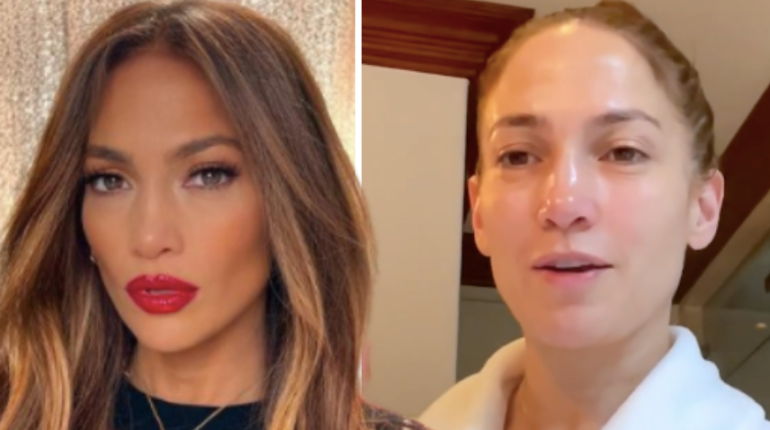 Posted February 23, 2023 by: Admin #News
Jennifer Lopez has been caught using filters on Instagram, leaving some fans feeling like they've been lied to their entire lives. The 53-year-old pop star, who looks like she's in her 30s, promoted the sports drink BODYARMOR on her Instagram account.
Advertisement:
J-Lo was wearing hot pink cycling shorts and a sports bra to show off her killer abs, but fans quickly noticed the video's filter appearing to "glitch" at times, revealing uneven skin texture and skin tone.
"Tell me you go to the gym without telling me you go to the gym," Lopez told her followers, sipping on the Kiwi Strawberry flavor of the drink. Unfortunately, instead of being impressed by her toned physique, fans were more interested in the use of filters. "A friend sent me a screen recording of the unfiltered version of this ad from Tik Tok. I prefer that over this filtered version. She's 53, she has wrinkles, be real about it on here too," one viewer commented.
Advertisement:
While many fans were quick to defend J-Lo, others felt cheated, saying that she was not being honest with them. "Why are most of her videos always with a filter? I mean, show your skin texture, why always hide it?" one fan asked. Another user wrote, "She backed up REAL quick afterward."
In spite of the backlash, some fans still think Jennifer Lopez looks great for her age, with one fan saying, "She's 53. She looks amazing and better than a lot of women half her age." Meanwhile, Lopez and her new beau, Ben Affleck, have reportedly found their dream home and are said to be spending a whopping $34.5 million on it. The luxurious property is located in the Pacific Palisades area of L.A., a place where only the rich and famous can afford to live.
We all have our insecurities, even Jennifer Lopez, who is famous for her age-defying beauty. It's good to know that she's just like the rest of us and needs a little filter boost every now and then. But if you're going to use a filter, make sure it doesn't glitch, J-Lo!
Advertisement:
Advertisement:
Thanks for your SHARES!
You May Also Like
Add a comment