Man Builds His Rescue Dog With Trust Issues A Mini House In The Living Room To Let Him Have Some 'Alone Time'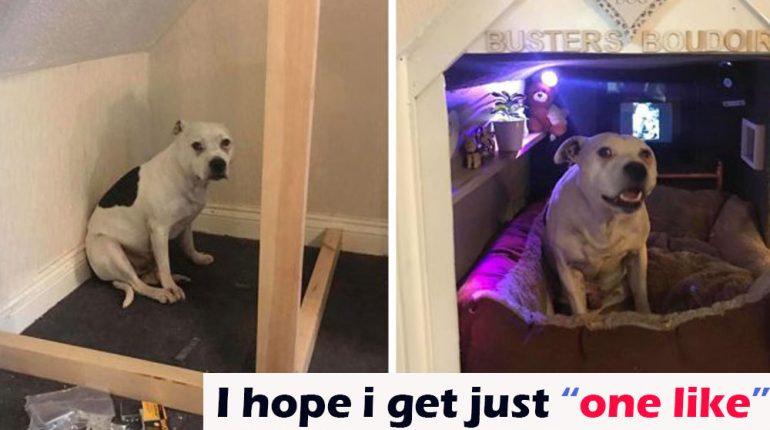 Posted November 9, 2022 by: Admin #Animals
Just like most people, every dog is different. Each dog has a unique set of needs, and it is our responsibility to identify and meet those needs.
Advertisement:
Listening to what makes your dog feel anxious and secure is particularly crucial if you have a dog that has experienced trauma.
Sean Farrell knows this well and has worked hard to provide his rescue dog Buster with the best conditions.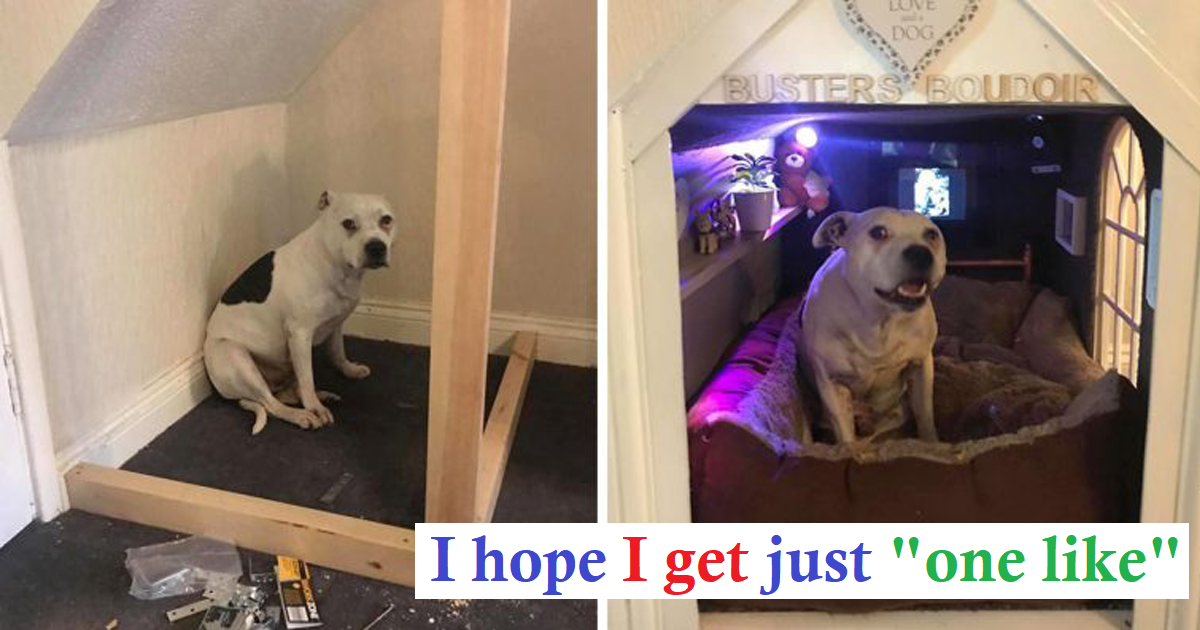 Advertisement:
The senior dog experienced an unspecified but extremely traumatic experience with his previous owner, causing authorities to step in and take Buster out of the home.
Mr. Farrell, who had initially only agreed to take in Buster, eventually fell in love with him and took him in.
Because of his traumatic experience, Buster suffers from a significant generalized anxiety disorder, as well as problems forming perceptions of unidentified men.
Advertisement: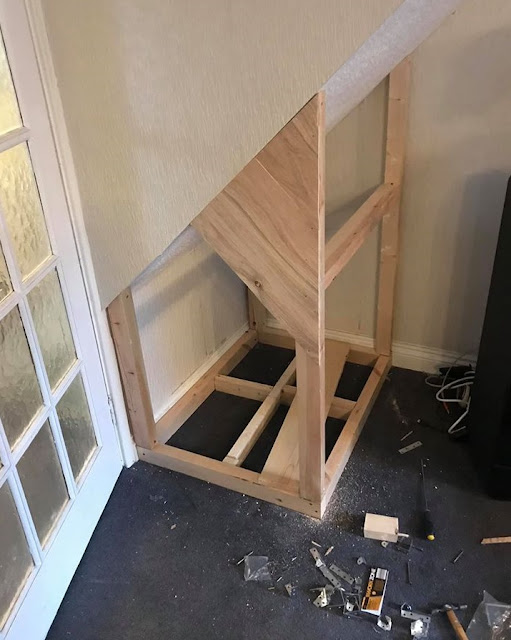 It was obvious that the dog would need a lot of help to deal with his problems, but Farrell was not discouraged.
In fact, Farrell went to great lengths to help Buster overcome his trust issues.
Advertisement:
Buster used his reserved behavior to serve as a therapy dog for the elderly and infirm, with the goal of gaining greater social confidence.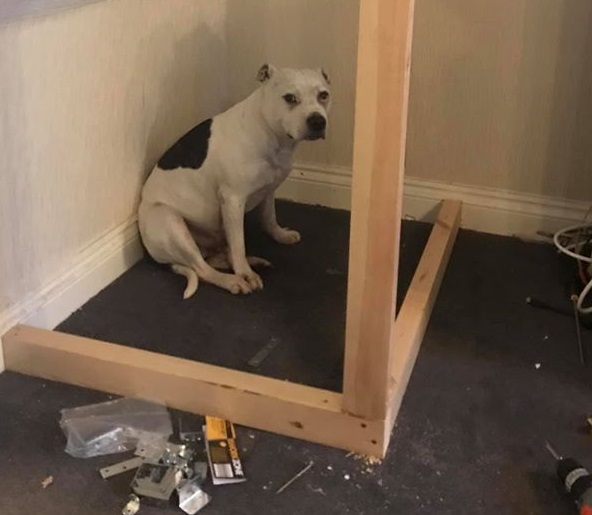 However, despite Farrell's and Buster's best efforts, Buster remained persistent in his anxiety and trust issues. Buster would often hide in the bedroom and not come out.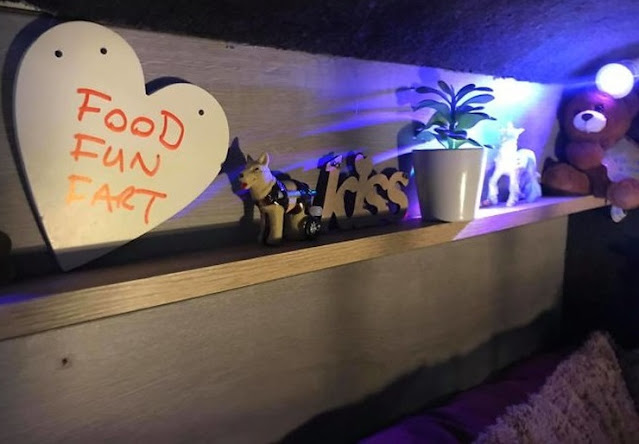 Advertisement:
Buster needed to feel safe more than ever after losing his foster brother and his support for him, a 17-year-old dog named Zook.
Farrell eventually came up with a plan as he was willing to do anything for his beloved boy.
Buster spent a lot of time hiding in the bedroom, so it was obvious he needed a safe place. The room, however, didn't seem to be up to the task.
Advertisement:
Buster needed and deserved a personal space.
Farrell made the decision to build Buster's little room, where he could escape whenever he felt overburdened or needed to be alone.
Buster could feel safe in this room, and it would help him feel more secure.
Advertisement: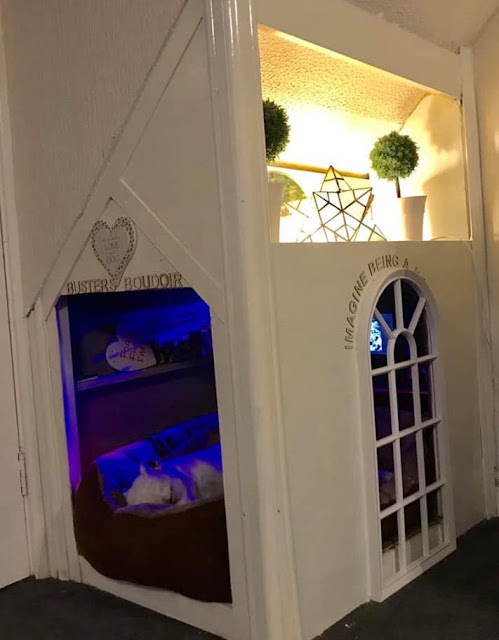 Farrell set to work turning his impossible dream concept into reality.
To keep an eye on Buster and give him a sense of security, he built the room from scratch in a corner of the living room and added a small window.
Farrell then furnished the space with anything Buster might need or want: nothing was too much trouble for his sweet boy.
Advertisement:
To pay tribute to Buster's beloved brother Zook, the builder added lights, adorable decorations, toys, a small TV for hanging out, a comfy bed and, of course, pictures of Zook.
Farrell couldn't wait to show Buster the room, as he wasn't sure if the dog would like it or not.
Buster fell in love with the room as soon as he saw it, so he didn't have to worry.
Buster now loves to take naps and rest in his beautiful room.
He is thrilled to have his own space, to be able to relax and feel safe.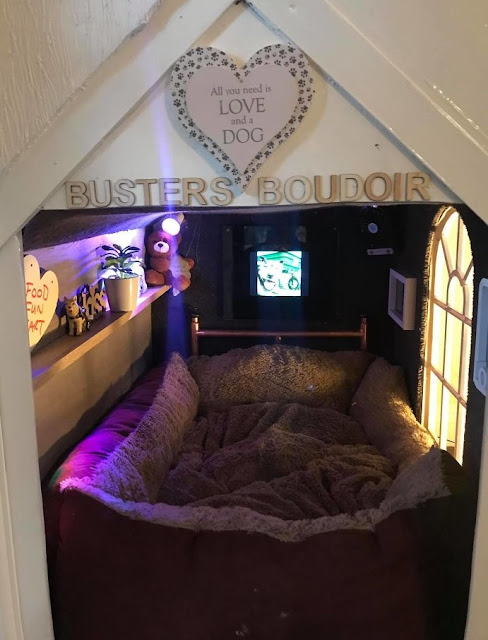 Farrell is a great dog parent, and Buster is lucky to have such a dedicated and caring person in his life.
We are so glad that Buster has found someone who truly understands and cares about him, because the love they share is heartwarming.
Buster has a Facebook page where you can see more of him.
Advertisement:
Thanks for your SHARES!
You May Also Like
Add a comment