Easy Italian Shrimp Bake Recipe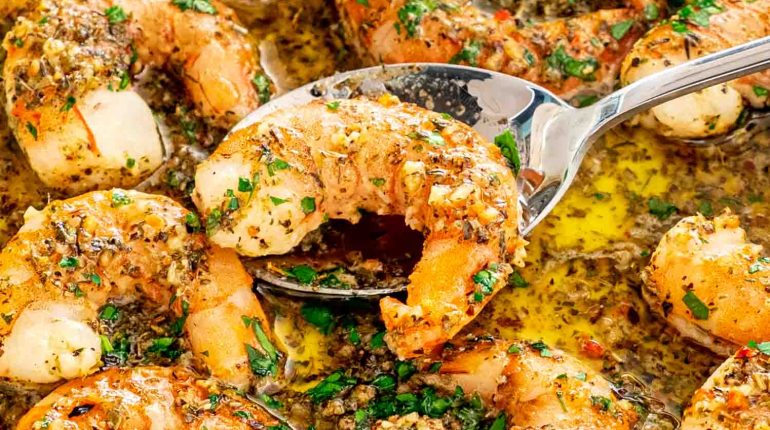 Posted August 24, 2023 by: Admin #Kitchen
Ready to experience a taste of Italy at your dining table in just 20 minutes? Our Italian Shrimp Bake with pasta offers an indulgent feast of plump, butter-infused shrimp bathing in a zesty lemon butter sauce. This dish is all about elevating simplicity into gourmet. The pasta, acting as a luscious bed, soaks up every drop of the robust, tangy sauce, ensuring every forkful is a journey to the heart of Italian cuisine.
Advertisement:
Say "Ciao" to your new favorite weeknight dinner – my Italian Shrimp Bake with Pasta! Imagine this – succulent, buttery shrimp bathed in an irresistible lemon butter sauce that's seasoned to perfection with Italian herbs. Every bite is a decadent dance of flavors, bringing you closer to the picturesque Italian countryside without ever leaving your kitchen. And did I mention it's ready in just about 20 minutes? Yes, you read that right – a quick and delicious Italian feast is absolutely within your grasp.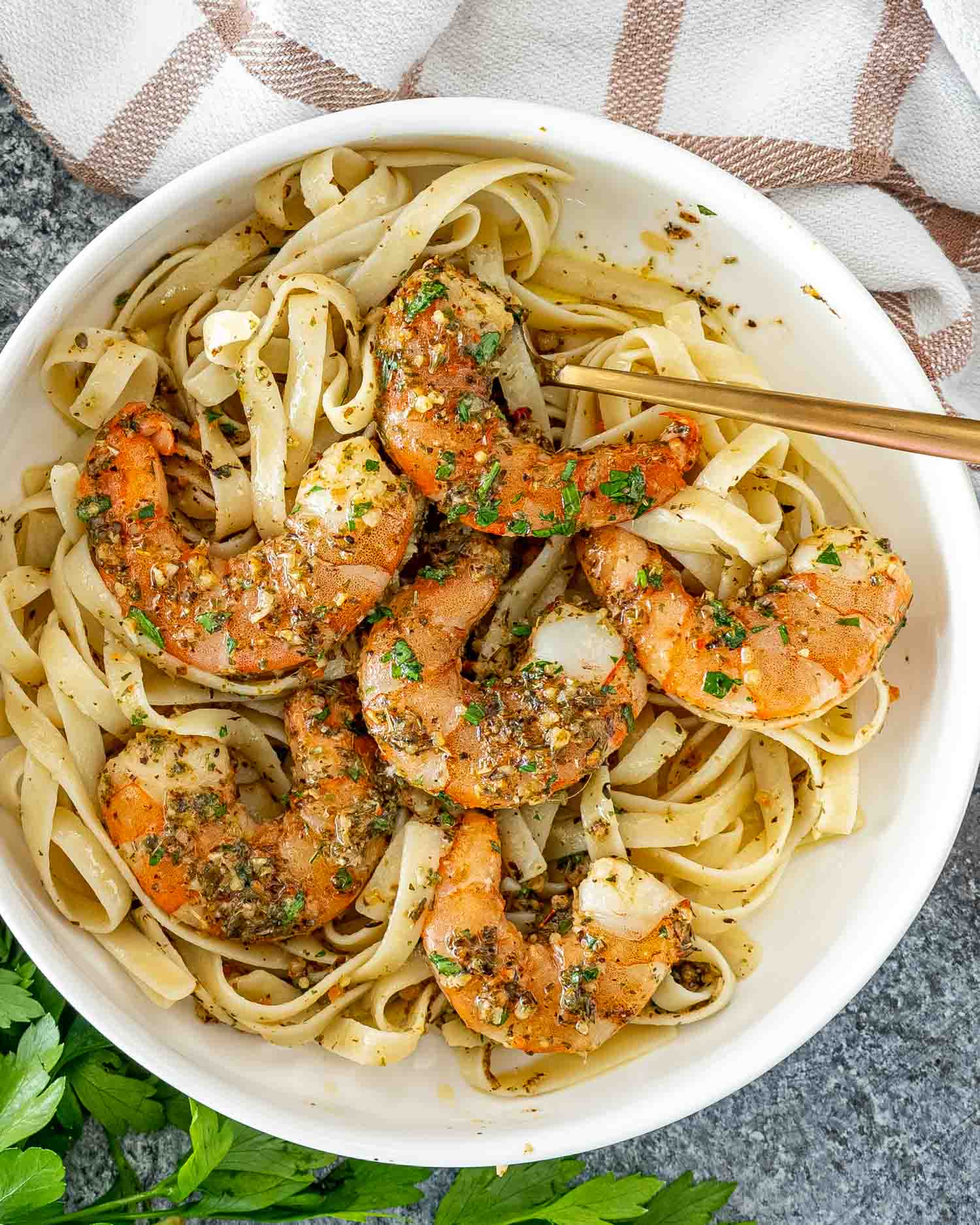 Why You'll Love This Italian Shrimp Bake
Quick and Easy! This is the perfect weeknight meal that you've been looking for! Not only is this shrimp dish delicious, but the recipe only requires 7 ingredients and takes just 20 minutes to make.
Buttery Shrimp Noodles! Made with lots of rich butter and Italian herbs, the shrimp are infused with flavor as they bake to perfection. Then all that deliciousness is tossed with some comforting noodles.
Family Favorite! Noodle night is always a favorite! What kid doesn't love a plate of buttery noodles!?! And the adults will enjoy this yummy Italian baked shrimp pasta just as much.
Ingredients You'll Need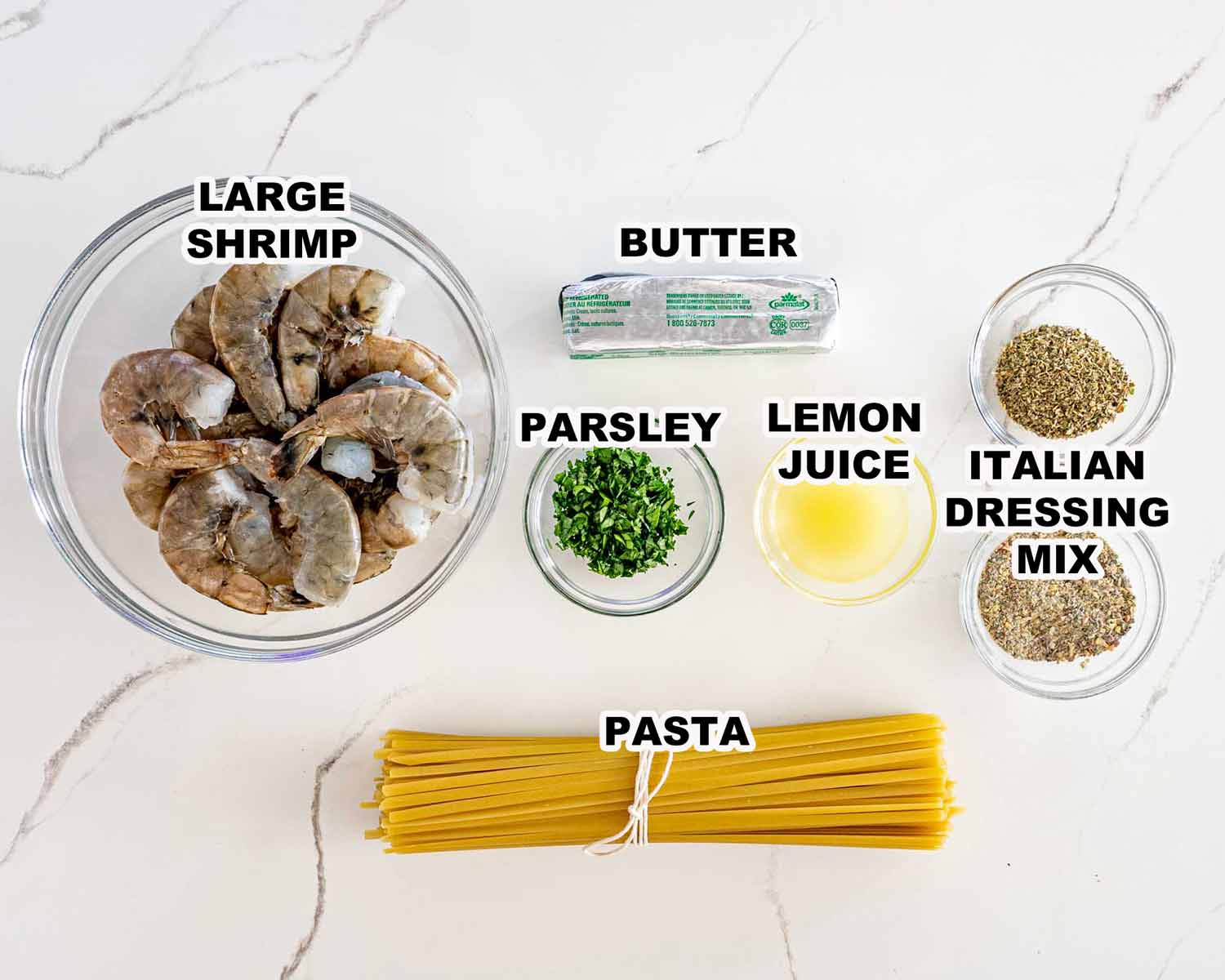 Advertisement:
Unsalted Butter: This forms the base of our luxurious sauce, lending a velvety richness to the dish. If you only have salted butter, that's okay! Just adjust your seasoning accordingly to prevent the dish from becoming too salty.
Lemon Juice: Freshly squeezed lemon juice is key here. It cuts through the richness of the butter and adds a vibrant tanginess to the sauce. In a pinch, bottled lemon juice could work, but the fresh stuff is really the gold standard.
Italian Seasoning: This blend of herbs gives our dish that signature Italian flair.
Italian Dressing Mix: This packs a flavor punch! If you don't have this on hand, you can mix together some garlic powder, onion powder, sugar, and dried Italian herbs as a substitute. But for a quick and easy flavor boost, the packaged mix is a fantastic shortcut.
Large Shrimp: We're using large, uncooked shrimp here. Make sure to remove the shells for easy eating. You can substitute with smaller shrimp, but remember to adjust the cooking time accordingly to prevent overcooking. Frozen shrimp works too, just ensure it's completely thawed before using.
Dry Pasta: I suggest spaghetti or fettuccine to provide a substantial base for our shrimp and sauce. But really, any pasta you love will work just fine. Try penne, linguine, or even a gluten-free pasta if that suits your dietary needs.
Fresh Parsley: A sprinkle of fresh parsley adds a pop of color and a fresh, herbaceous note to the dish. If you don't have fresh parsley, dried parsley can be used as a substitute. Just remember that dried herbs are more potent, so use less.
How To Make Italian Shrimp Bake
This is one of the most uncomplicated shrimp pasta recipes out there! All you have to do is boil some noodles while the shrimp is baking in the oven and you'll have dinner on the table in a snap!
To begin, you need to preheat your oven to 350°F (177°C) so that it is already hot once the shrimp are prepped and ready to bake! One of the biggest mistakes that people make is putting dishes into cold ovens. For foods to cook evenly it's really important that your oven be preheated.
Instructions: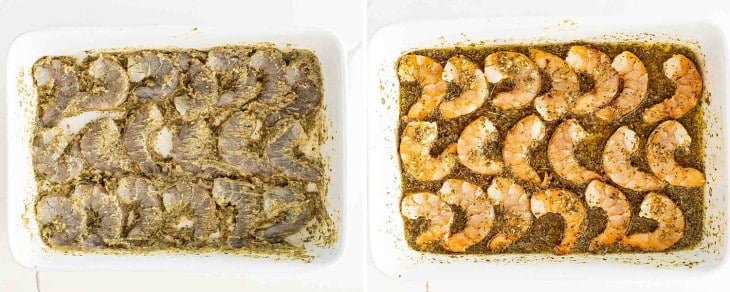 Advertisement:
Preheat the Oven: Preheat the oven to 350°F (177°C) to ensure it's hot when the shrimp are ready to bake.
Season and Bake the Shrimp:

Whisk together melted butter, lemon juice, Italian seasoning, and Italian dressing mix in a baking dish.
Add uncooked shrimp and toss to coat thoroughly.
Bake in the preheated oven for about 15 minutes until the shrimp turn pink and are no longer opaque.

Cook the Pasta:

While the shrimp bakes, bring a large pot of salted water to a boil.
Cook the pasta according to package instructions until al dente.

Assemble and Serve:

Drain the cooked pasta well in a colander.
Once both the shrimp and pasta are ready, serve the baked shrimp and its buttery sauce over the cooked pasta.
Garnish with chopped fresh parsley.
Optionally, you can also add fresh lemon slices and grated Parmesan cheese for extra flavor.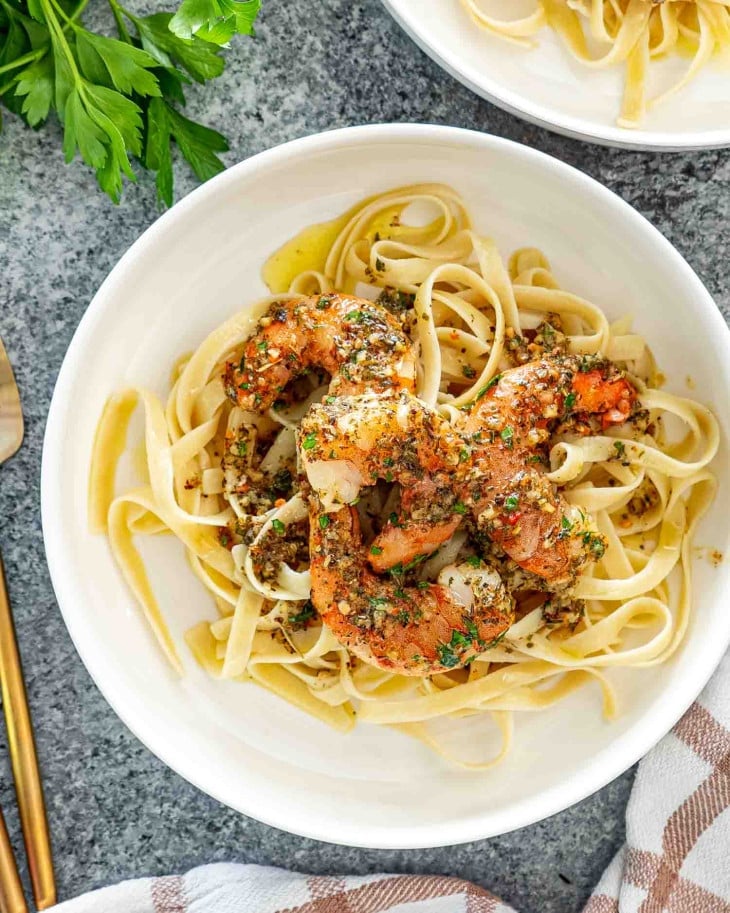 Enjoy your Italian Shrimp Bake with its flavorful shrimp, buttery sauce, and perfectly cooked pasta!
Advertisement:
Advertisement:
Thanks for your SHARES!
You May Also Like
Add a comment