Chicken with Italian Parmesan, tomato and spinach sauce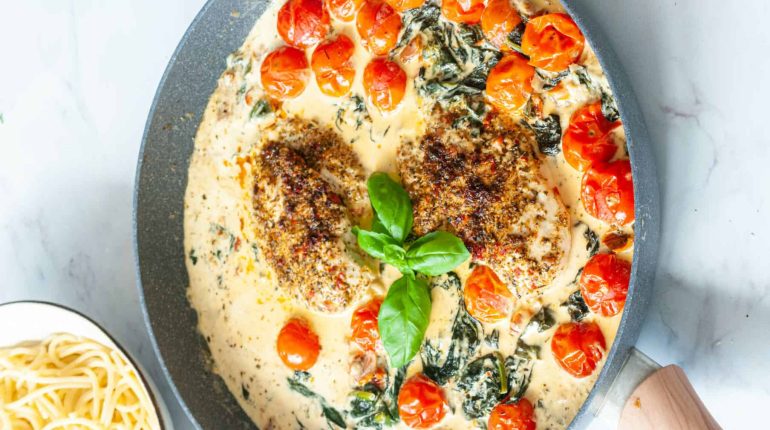 Posted August 9, 2023 by: Admin #Kitchen
This chicken with an Italian sauce is one of the most outstanding cooking experiences I've ever had. Here, the chicken is gently soaked in a savory mixture of creamy parmesan, garlic and white wine, giving the meat an irresistibly tender, melt-in-your-mouth texture. Topped off with roasted cherry tomatoes, sautéed spinach and perfectly cooked pasta, the dish becomes irresistibly addictive !
Advertisement:
Reasons to love this dish: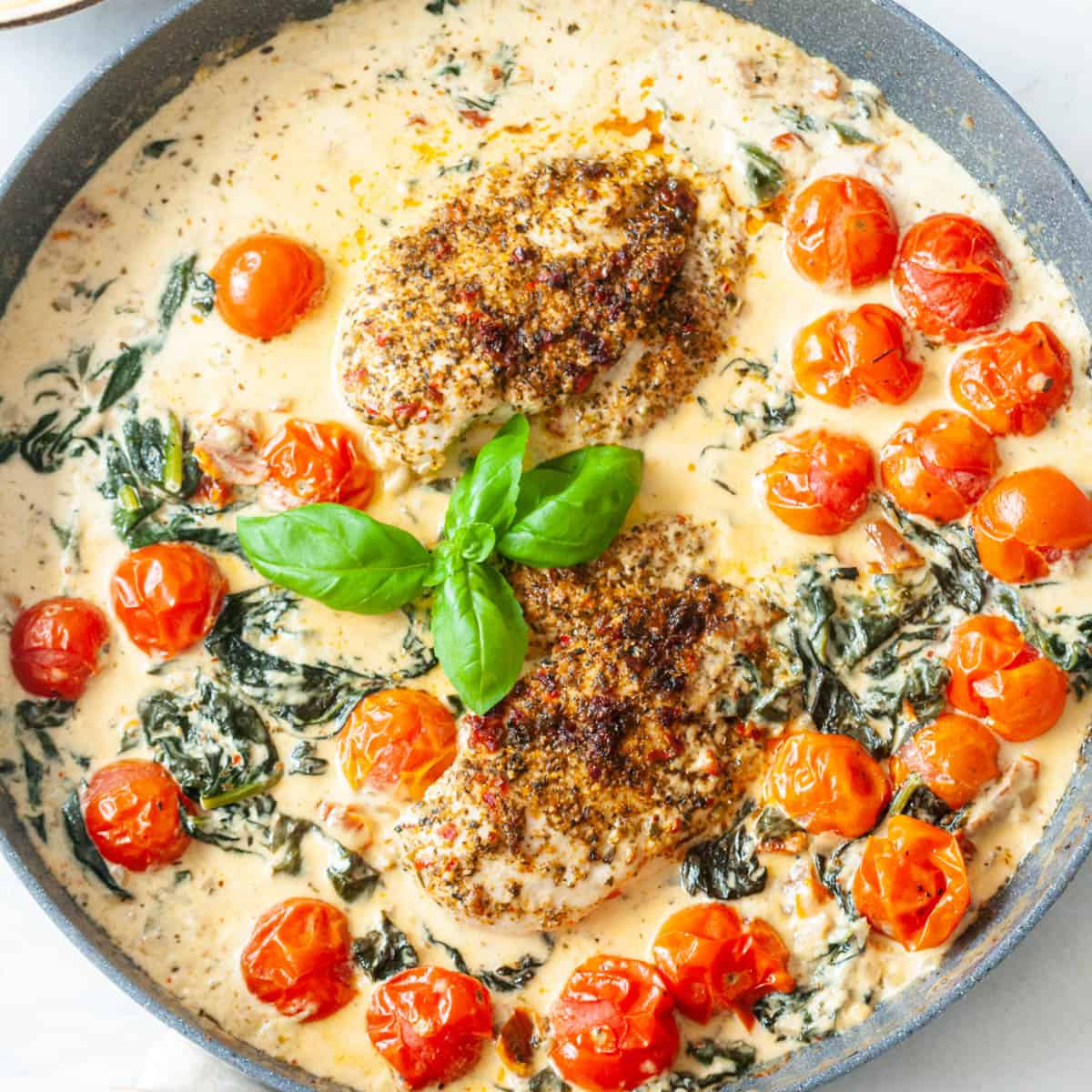 Making this masterpiece is a snap and requires minimal effort. It's an excellent choice for batch cooking, allowing you to prepare a whole batch several days in advance, or even freeze it for later enjoyment. Each delectable bite transports you to the sunny landscapes of Italy, a true culinary escapade.
Ingredients
2 tablespoons Italian blend
250 g cherry tomatoes
1 level tablespoon Espelette pepper
8 large slices sun-dried tomatoes
40 cl single cream (30% fat)
60 g grated Parmesan cheese
1 small lemon (for its juice)
2 g oregano
1 drizzle olive oil
190 g spinach leaves
2 chicken cutlets
3 small garlic cloves
1 small onion
40 g white wine
180 g pasta (fresh is even better)
A few basil leaves (fresh)
Salt
Pepper
Instructions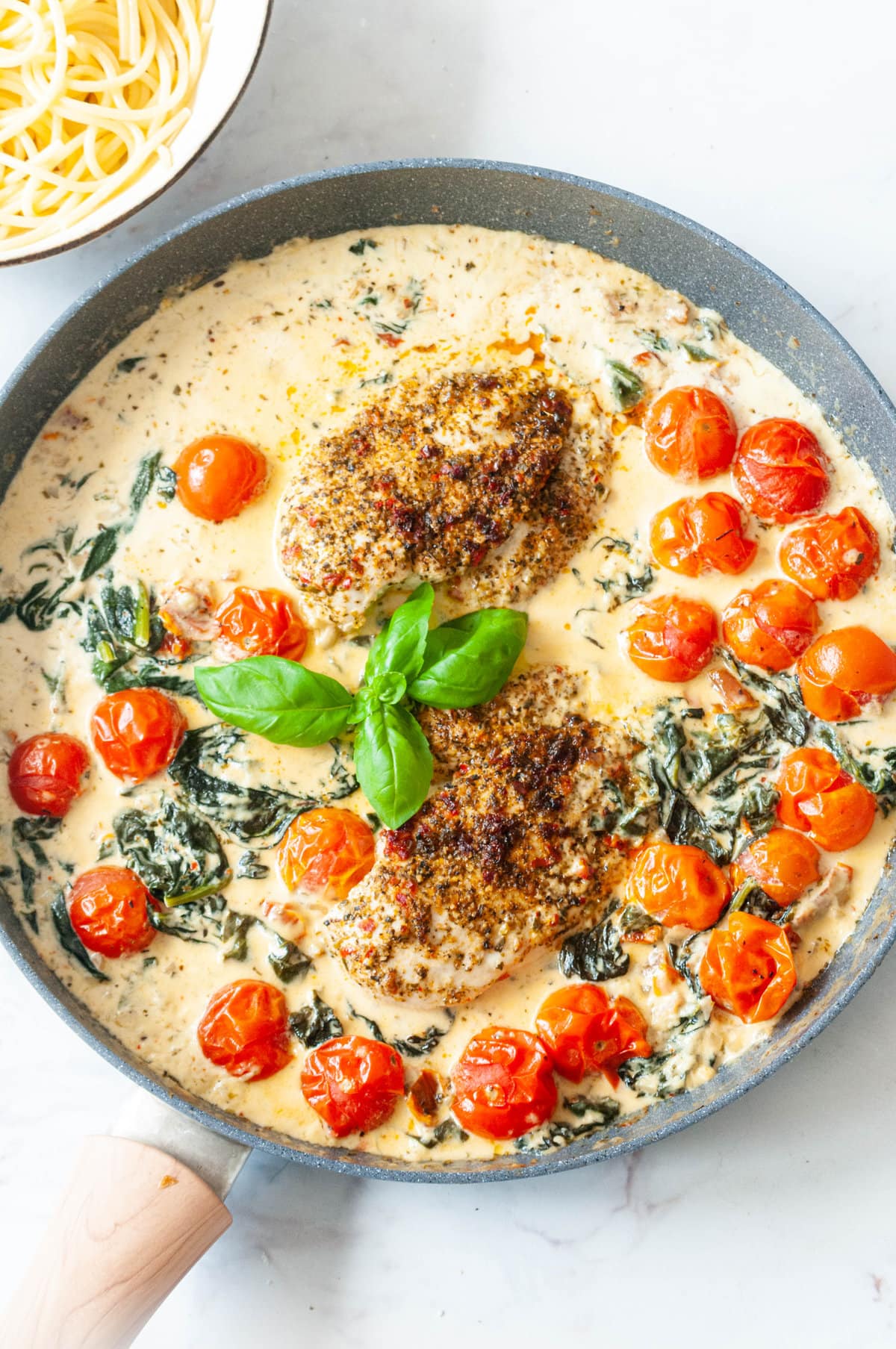 Advertisement:
Spread the Italian mixture evenly over the chicken cutlets and massage carefully with a little olive oil until well coated.
Heat a frying pan and drizzle lightly with olive oil. Brown the cutlets on both sides, then set aside.
Lightly press the garlic and finely chop the onion. Cook until it takes on a delicate hue. In the meantime, cut off the tough spinach tips.
Add a dash of white wine and stir in the spinach. Reduce over high heat, taking care not to let the sauce stick.
Garnish with a drizzle of lemon juice, a handful of sliced sun-dried tomatoes, cherry tomatoes, Espelette pepper, liquid cream, salt, pepper, a pinch of oregano and the magic touch of Parmesan.
Return the chicken cutlets to the pan, making sure they're nestled in the sauce. Simmer, covered, for 10 to 15 minutes. Meanwhile, in another saucepan, bring the water for the pasta to the boil.
Arrange the chicken and pasta on the plates, then pour the savory sauce generously over the top. A pinch of freshly chopped basil adds the final touch of perfection.
Storage instructions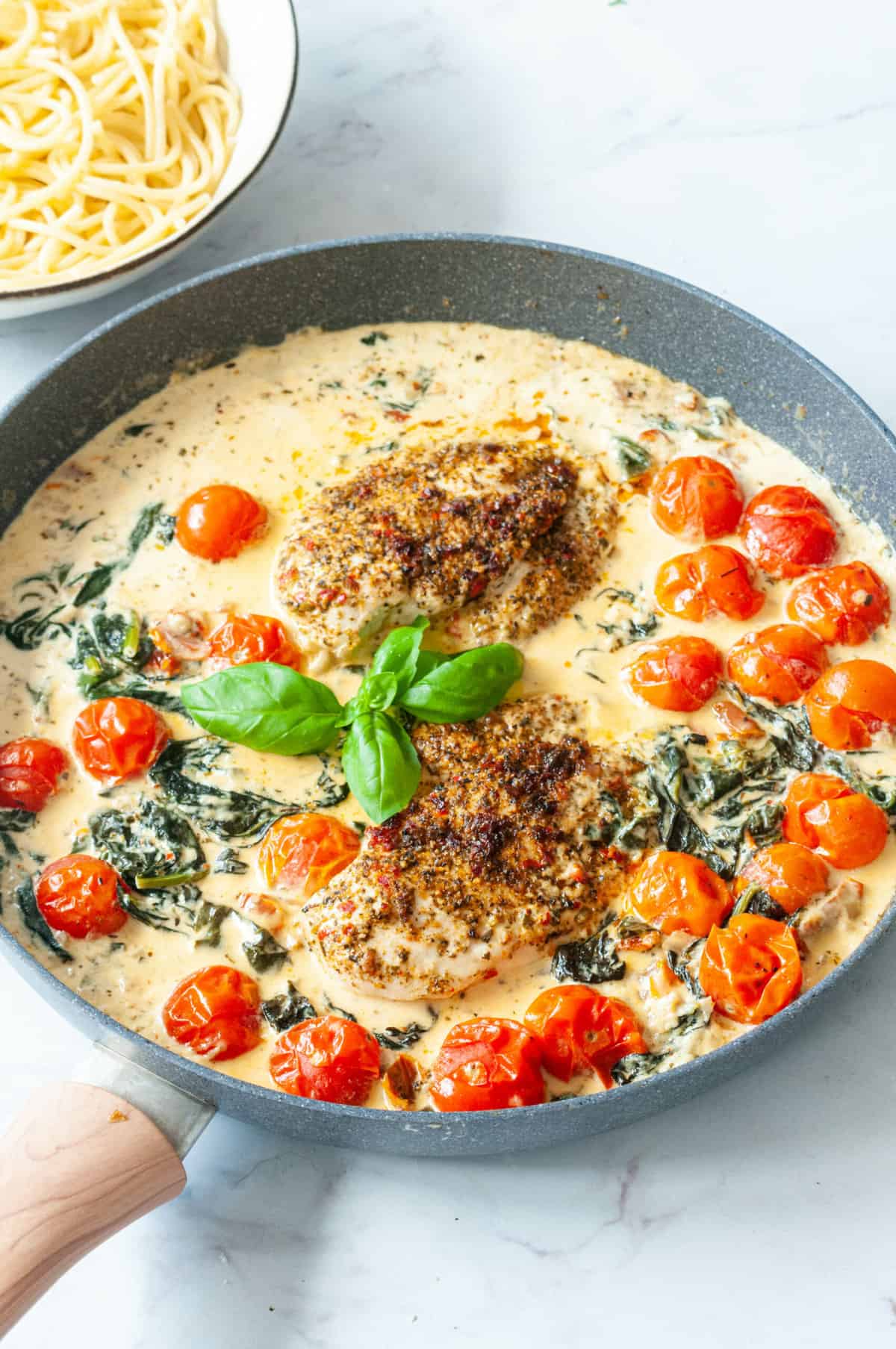 You can store this delicious creation in an airtight tin in the fridge for around three days. If you wish  to extend its shelf-life, freezing is an excellent option. When it's time to present it to your taste buds again, a quick session in the microwave is all it takes to defrost it.
What to use instead of white wine for deglazing?
Choose lemon juice, which serves both to deglaze and boost flavor. You can also use chicken or vegetable stock to replace the white wine. If you prefer a minimum of liquid, omitting this component altogether is also a viable option.
Advertisement:
Advertisement:
Thanks for your SHARES!
You May Also Like
Add a comment