Birria Tacos Recipe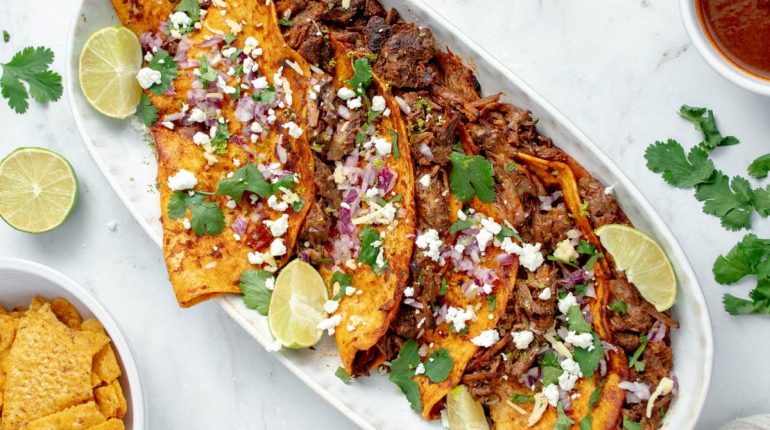 Posted August 1, 2023 by: Admin #Kitchen
Here's a delicious culinary journey to Mexico as you savor the exquisite flavors of birria tacos. Warm, soft tortillas envelop succulent chunks of beef, slow-cooked to perfection in a zesty, spicy sauce, harmoniously blended with savory cheese. You'll enjoy a unique combination of flavors, as these delectable tacos are topped with a tantalizing sauce and skilfully pan-fried to a crispy, golden exterior. Indulge in this gastronomic extravaganza that promises to elevate your dining experience to new heights, making it an ideal choice for a hearty, convivial dinner with loved ones.
Advertisement: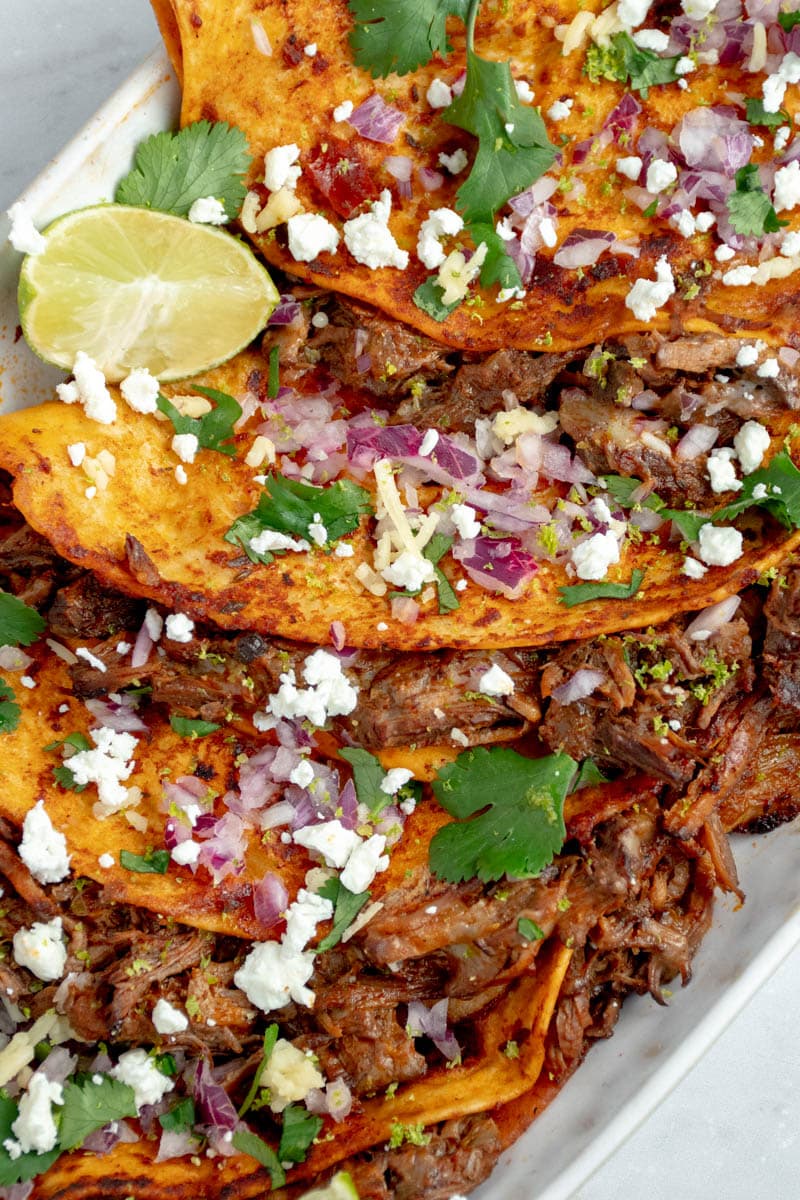 The traditional essence of birria tacos in Mexico lies in the use of goat meat, giving it an authentic regional charm. However, in the interests of accessibility and satisfying a wider audience, beef has taken on the role of protagonist in most parts of the world. Thus, this adaptation pays tribute to the rich heritage of Mexican cuisine while embracing the global variations that contribute to its culinary diversity.
So let the blend of tender beef, fiery spices and melted cheese captivate your taste buds and transport you to the colorful streets of Mexico, where vibrant flavors and lively conversations intertwine to create unforgettable memories.
Advertisement:
Reasons to love this dish:
The meat is incredibly tender, achieved through a slow cooking process that guarantees maximum tenderness.
The recipe is full of flavor that effortlessly transports your taste buds to the bustling streets of Mexico.
The meat is preserved for several days, so you can enjoy it at your own pace."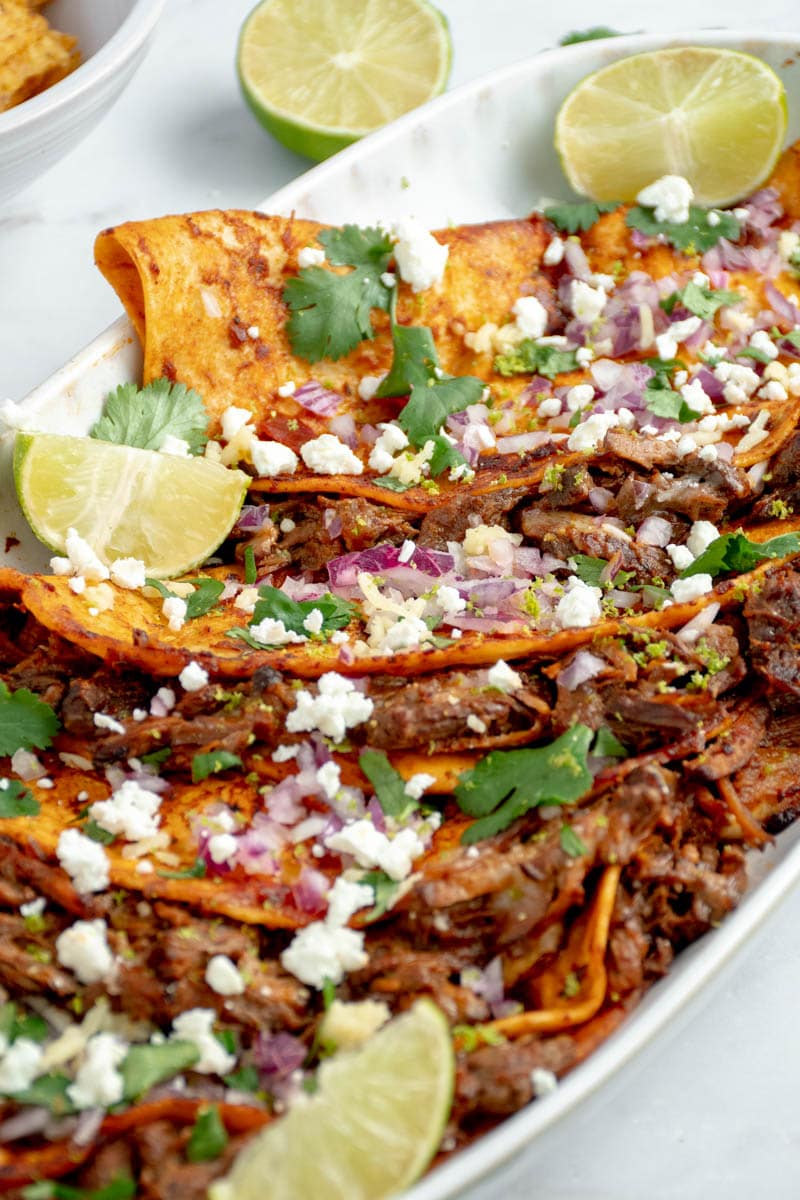 The ingredients:
500 g beef, chuck, collar or shoulder
550 g peeled tomatoes in juice
2 good onions
4 cloves garlic
2 chicken stock cubes
900 ml boiling water
2 tablespoons cumin
1 teaspoon cinnamon
2 tablespoons oregano
1 tablespoon ginger
2 tablespoons paprika
2 tablespoons thyme
3 Guajillo peppers
2 Ancho peppers
3 Arbol peppers
4 small tortillas
60 g cheddar cheese
a few coriander leaves
1 lime
½ red onion
A little fine salt
A little pepper
A little butter for cooking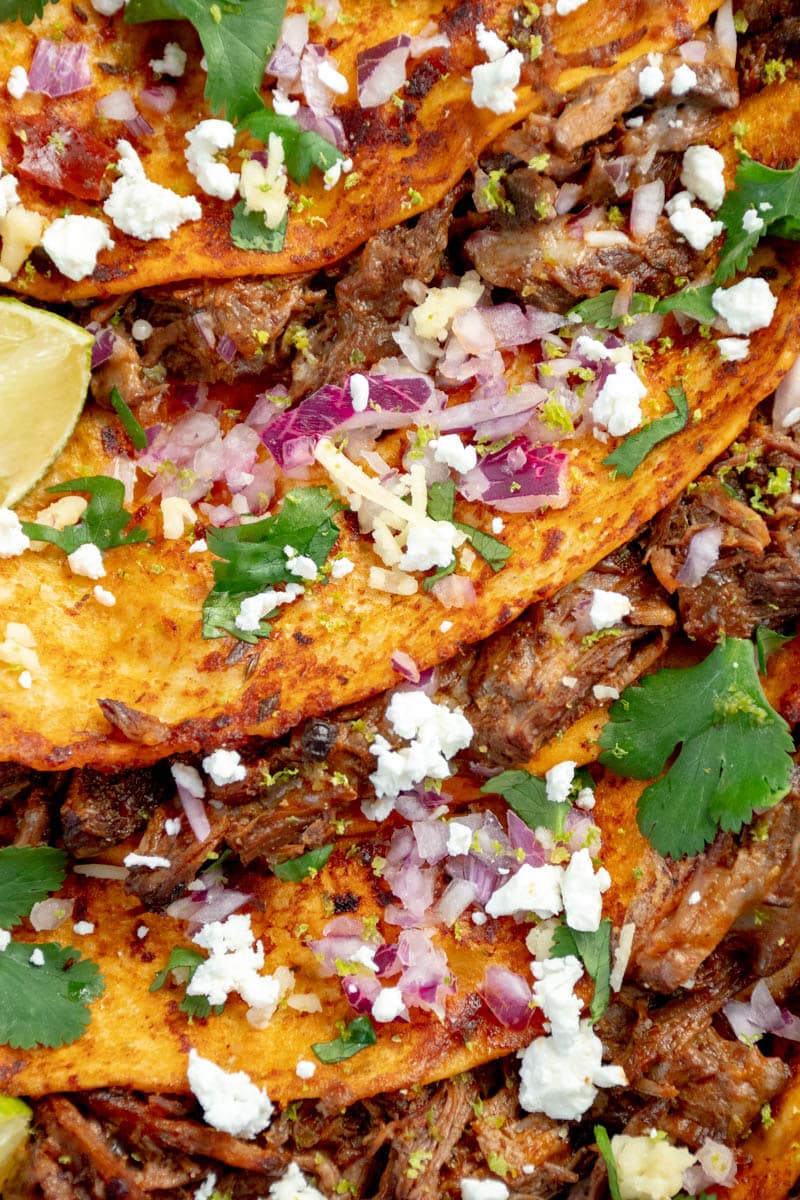 Preparation:
Season the meat with salt and pepper, cut into large cubes and sear briefly for added flavour.
Remove stems and seeds from chillies. Mix with chicken broth, peeled garlic cloves and quartered onions in pan.
Add the peeled tomatoes, ginger, cinnamon, oregano, thyme, cumin and paprika. Cover and cook over medium heat for one hour, allowing to come to a gentle boil.
Remove the tomatoes, garlic, onions and chillies, along with a small amount of stock, and blend in a blender. Strain the mixture through a sieve and return the liquid to the pan.
Continue cooking over low heat for a further 2 to 2.5 hours, reserving a small amount of stock.
Once cooked, shred the meat with two forks. Grate a little cheddar cheese and set aside. Heat butter in a frying pan, dip a tortilla in the sauce and place in the pan.
Add the meat and grated cheddar, then fold the tortilla in half. Cook on both sides until lightly browned. Repeat until all ingredients are used.
Serve prepared tortillas on a large plate with cilantro, lime zest, lime juice and thinly sliced red onion for a delicious presentation.
Storage instructions:
For optimum freshness, store meat and sauce in an airtight tin in the fridge. They will keep for up to 48 hours. However, for the ultimate dining experience, I strongly recommend that you prepare the birria tacos just before enjoying them.
Advertisement:
Advertisement:
Thanks for your SHARES!
You May Also Like
Add a comment