A dog fell 60 metres from the top of a waterfall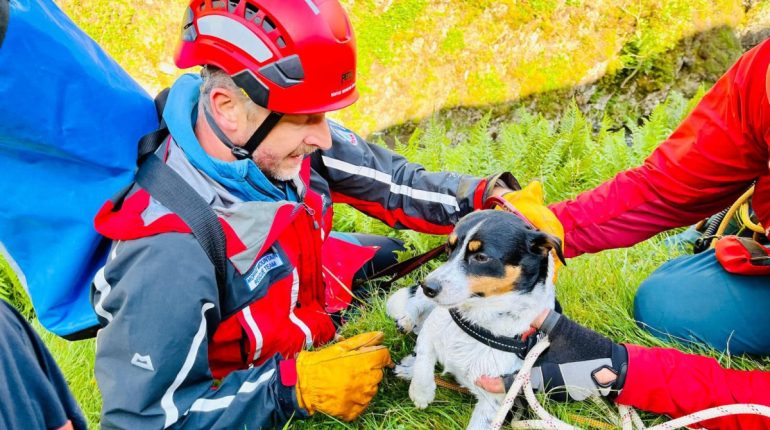 Posted July 31, 2023 by: Admin #Animals
On a seemingly ordinary day, a heartwarming story unfolded in the picturesque beauty of Grey Mare's Tail, a magnificent Scottish green setting. Neil Elliott, accompanied by his faithful four-legged companion Louie, set off for a simple walk, little suspecting that their excursion would soon turn into a life-changing adventure.
Advertisement: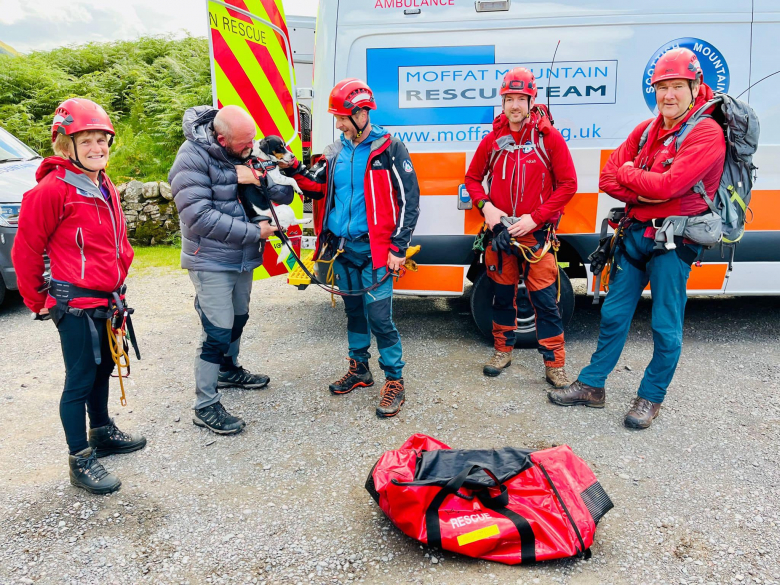 July 16, 2023 is a date that will live forever in Neil's memory. As they strolled through rugged terrain, Louie's inquisitive nature led him too close to the edge of a waterfall. In a heartbreaking moment, the ground beneath his paws gave way and he tumbled down the sheer 60-meter waterfall.
Neil's distress at witnessing his beloved companion's fall was indescribable. He quickly called the authorities for help. The police were quick to respond, contacting the experienced mountain rescue team, renowned for their expertise in such difficult situations.
Advertisement: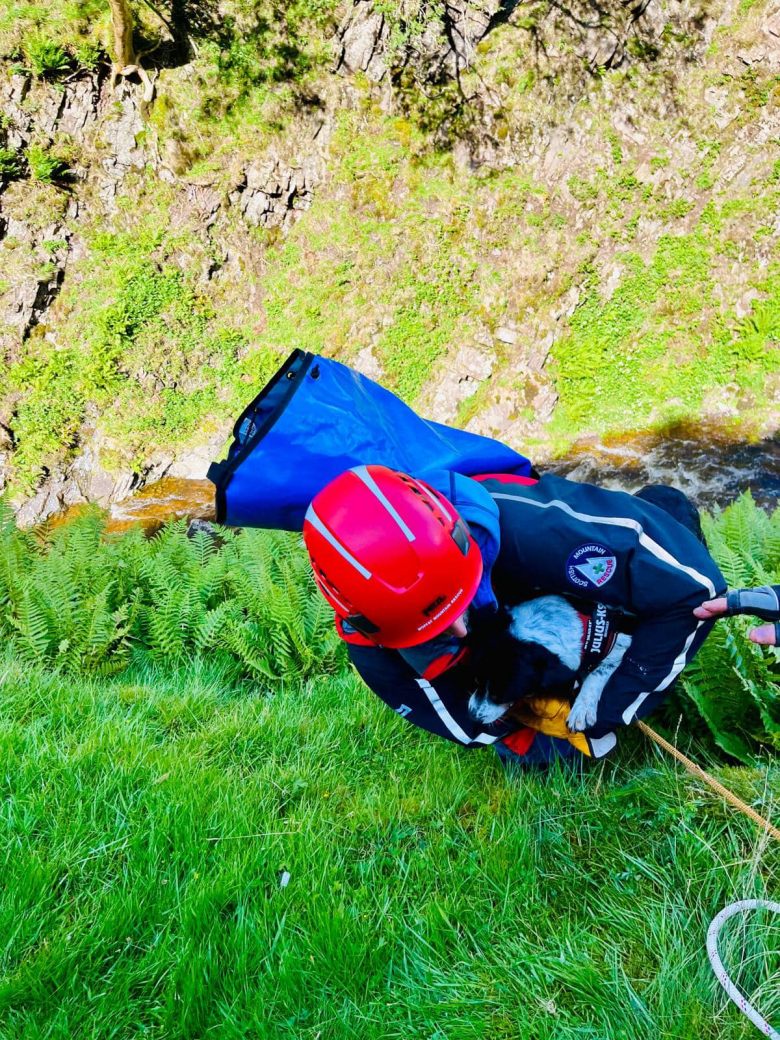 On that day, 15 brave rescuers were already near Dumfries, taking part in a training exercise, when they received the call for help. Without hesitation, they sprang into action and headed for Grey Mare's Tail to lend their expertise to the rescue mission.
The treacherous landscape posed formidable obstacles, but the determined team navigated through rocky terrain and tumultuous waters to reach Louie. Amid the breathtaking natural beauty of Dumfries and Galloway, they dedicated themselves to finding Louie and his worried owner.
Advertisement: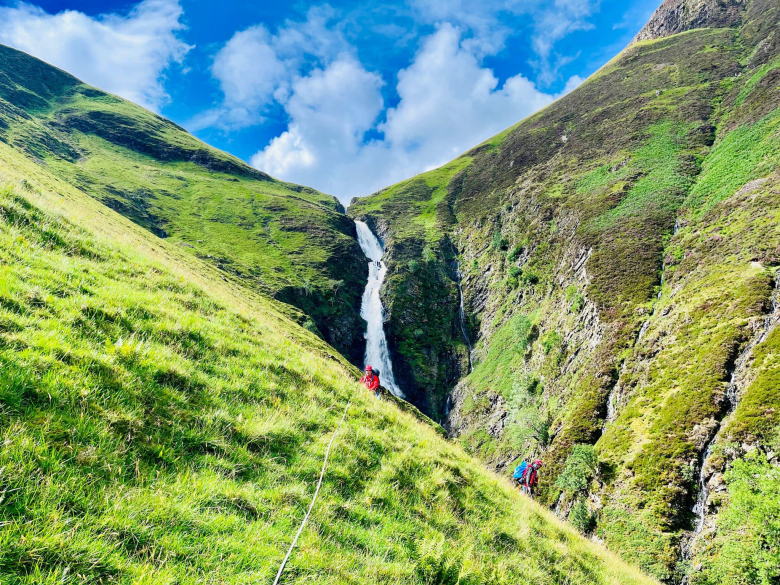 Once there, the rescuers worked meticulously to locate Louie and devise the best approach to finding him safe and sound. Three skilled team members carefully descended into one of the lower basins, where they spotted the soaking wet and frightened little dog.
Undeterred by the difficult circumstances, they used their skills to set up a secure rope system, enabling one of the team members to descend with a rescue bag. With unwavering concentration, they gently secured Louie, cradling him safely in their arms. The joy and relief felt by Louie and Neil when they were reunited was palpable.
Advertisement:
Voir cette publication sur Instagram
Advertisement:
Despite this perilous fall, Louie's spirit remained strong. He showed remarkable courage in enduring the ordeal. Although he suffered a tendon injury and a slight limp as a souvenir of his adventure, his overall health remained stable and reassuring.
Overwhelmed with gratitude and admiration, Neil took to the Moffat Mountain Rescue Facebook page to express his heartfelt thanks, hailing the rescuers as an "absolutely amazing group" and offering immeasurable thanks for saving Louie's life.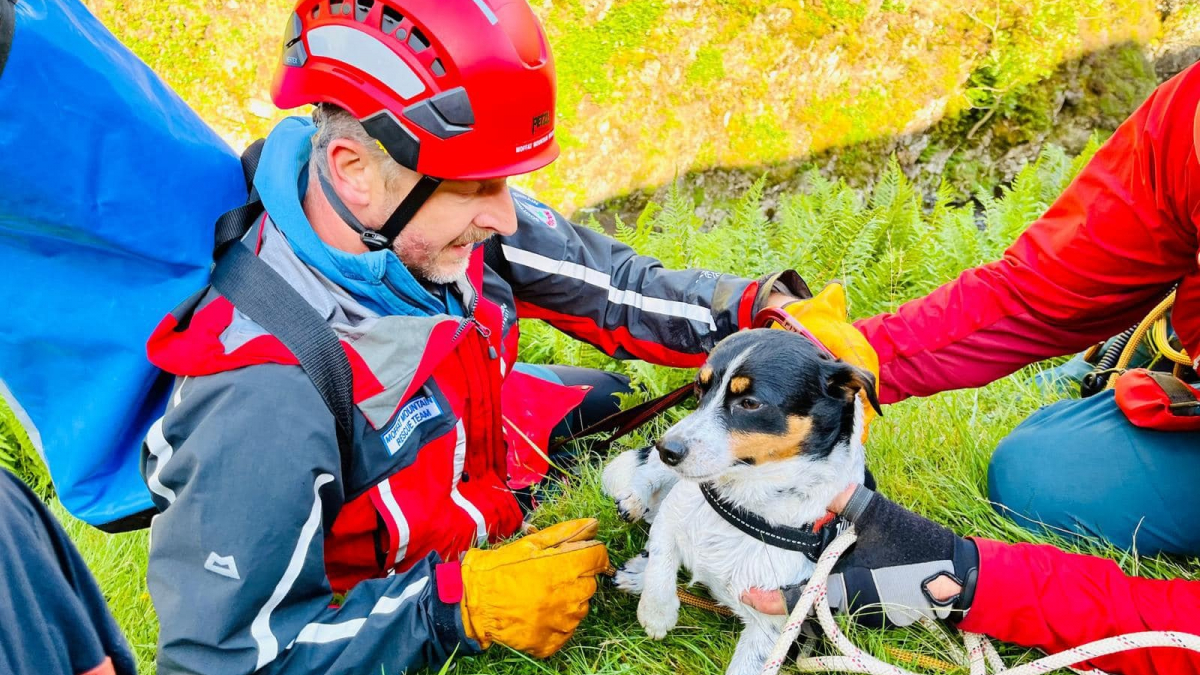 Advertisement:
This amazing story of bravery and teamwork is a poignant reminder of the importance of safety precautions during outdoor activities. While the exact circumstances of Louie's accident remain unknown, they underscore the importance of leash use, especially in terrain where potential hazards abound.
As Neil and Louie return home, their bond strengthened by this shared experience, they take with them a new appreciation of life's precious moments. They will forever cherish the dedication of the mountain rescue team, whose unwavering commitment to saving lives ensures that every story, no matter how daunting, can end in hope and gratitude.
In the hearts of all those who participated in or heard about Louie's remarkable rescue, the memory of this extraordinary adventure will continue to inspire acts of courage, compassion and unity in the face of adversity.
Advertisement:
Advertisement:
Thanks for your SHARES!
You May Also Like
Add a comment